Who We Are?
ASTRON CONCRETE PRODUCTS was established on 2010 in Ernakulam, Kerala. We are working in the field of construction and concrete spacer since years. Astron mainly deals with Concrete Spacers which are made with high quality materials and all our products ensure long life to our valuable customers.
Concrete Spacers are used as foundation of all building structures and it helps in making the base of any construction strong. Astron Fibre Reinforced Concrete Spacers is manufactured under the International Quality System. The Astron Concrete Spacer is of High Compressive Solid strength and it also has fire resistant quality above the surrounding  concrete.
 Astron Reinforced Concrete Spacers has been specially designed with hole for all tying purpose and there is no deformation in heat, cold during concreting. The use of Astron Fibre Reinforced concrete spacers save the man power up to 15% and also saves the total cost up to 25%. Astron Concrete Products works on the basis of order and customers choice.
Astron Concrete Products also deal with the following products:

Door Frame and Window Frame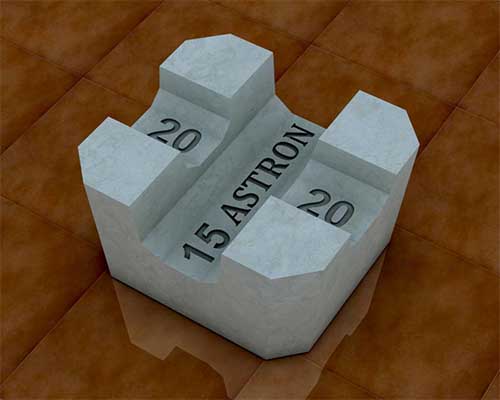 High Compressive Strength(not less than 50Mpa).

Fire Resistant(equally of above the surrounding concrete).

Scientifically designed shapes to ensure compatibility.

It makes the structure durable and safe.

No deformation in heat, cold or during concreting.

Rapid Chloride-Ion Penetration –Moderate.

Fiber reinforced for better strength. Has a provision for inserting tying wire.
Concrete to concrete bond perfect hence no hair cracks.

Compressive strength not less than the surrounding concrete.

Low water absorption.

Sustains extreme heat.

No deformation during concreting, ensure proper cover and fixity to rebars.
Corporate Blog
News & Events
Concrete paver blocks manufacturer India Astron Spacers in Kerala is one of the leading  Concrete paver blocks manufacturer[...]
Concrete paver blocks suppliers India Astron Spacers is one of the leading Concrete paver blocks suppliers[...]